3,000mAh Power Boost:
The Promate Energi-3 features an impressive 3,000mAh capacity, adding at least a full charge's worth of battery power to most smartphones or significantly boosting the available charge available on any tablet or USB device.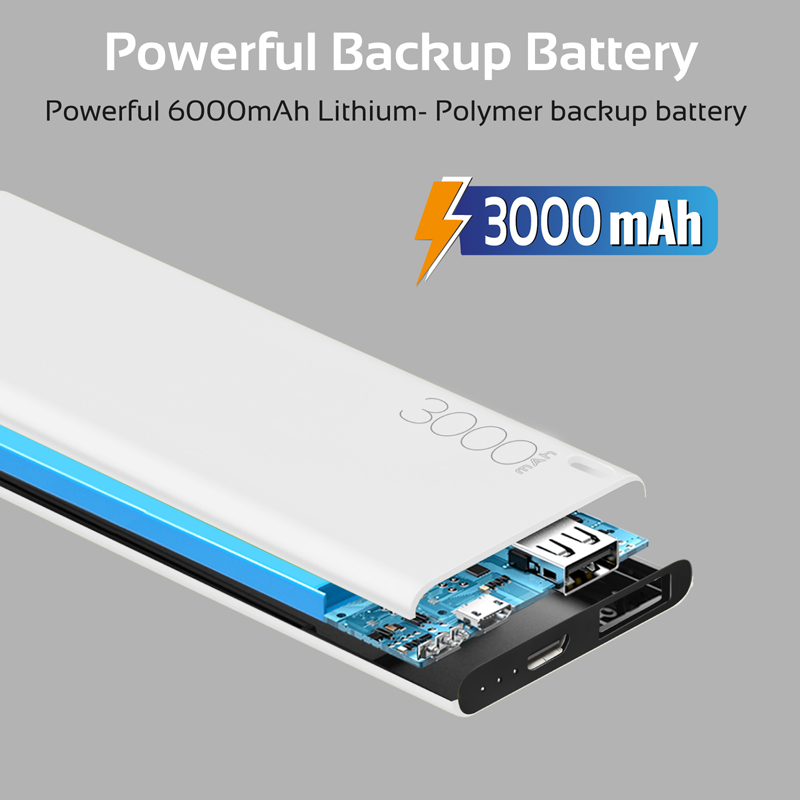 Slim and Compact Size for Great Portability:
With its sleek, compact construction and convenient pocket-friendly size, the Promate Energi-3 is ideal for travel as well as everyday use. A lightweight build and elegant frame mean this power bank will fit neatly into any backpack, luggage or jeans pocket with no trouble.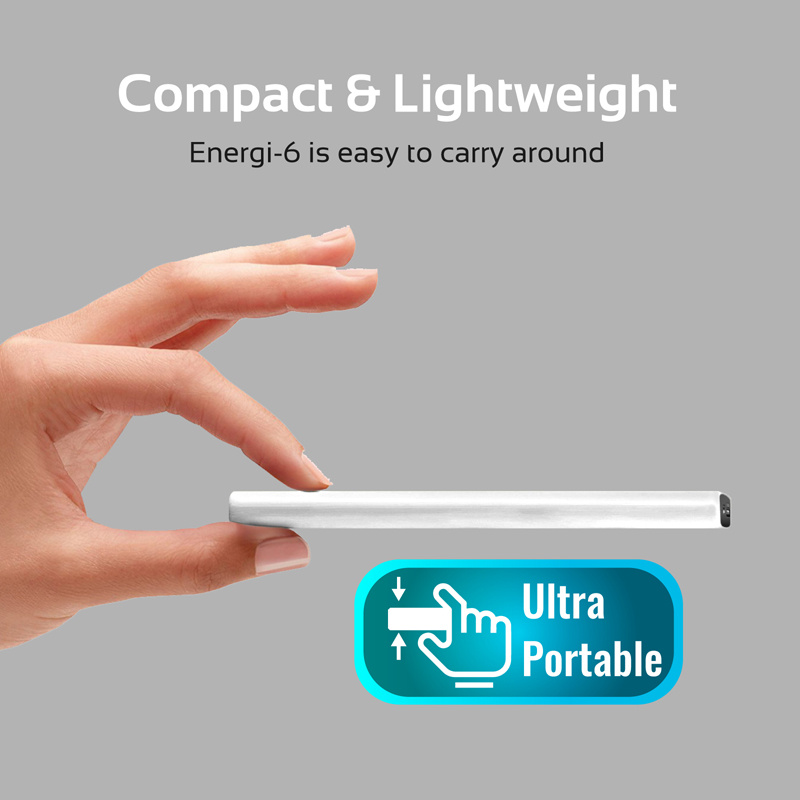 Automatic Voltage Regulation:
Energi-3 Features Smart Charging Circuitry to Provide Your Device with The Perfect Amount of Power for a Quick but Safe Charge.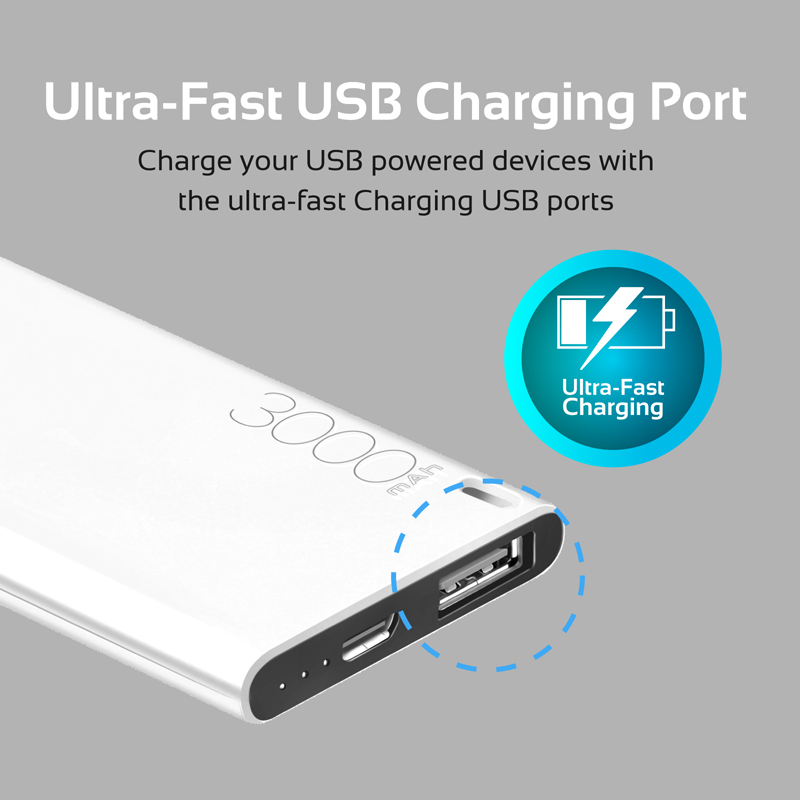 Stylish Aluminum Crafted Portable Design:
It's curvy and compact design, sleek and smooth Aerospace-grade aluminum finish that matches the most advanced Smartphones and Tablets, and it makes it comfortable to carry and easy to pack away in a backpack, briefcase, or handbag.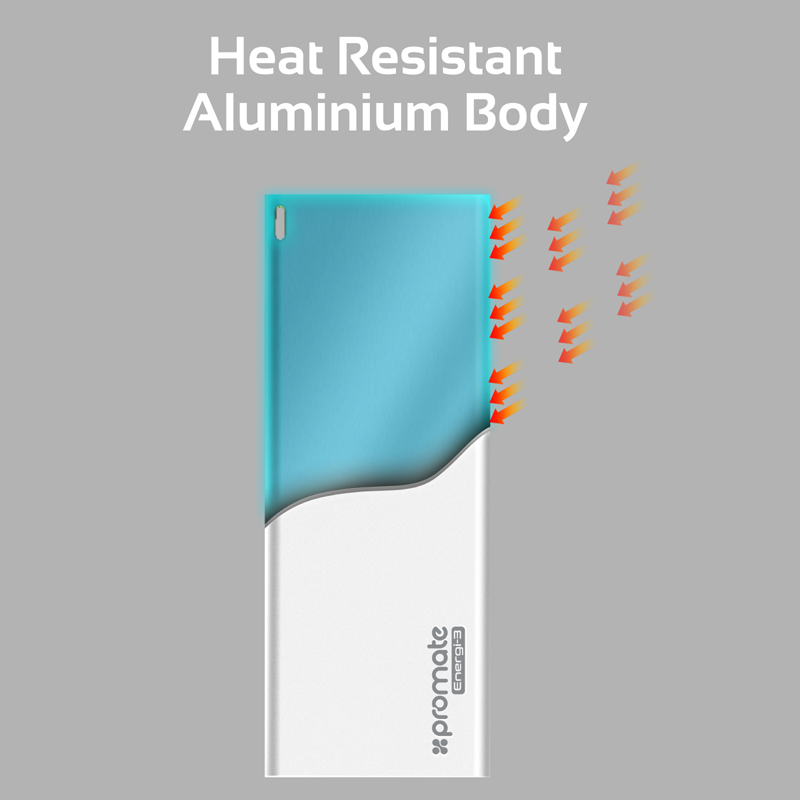 2.1A Output and Adaptive Smart Technology:
You won't be waiting around forever for your device to finish charging thanks to the Promate Energi-3 with 2.1A output and adaptive smart charging technology, which intelligently detects your connected device and allocates the perfect amount of power.
LED Indicator Always Keeps You Informed:
The Promate Energi-3 features built-in LED indicators for a quick, easy way to check how much charge is left. Simply push the power indicator button and the indicators will light up, displaying the current battery life or charging status of your Promate Energi-3.
Superior Quality of Safety:
Top circuit protection chip to ensure complete safety. It supports overcharging, over-voltage, over current, short-circuits protection and temperature protection to protect your devices.
Universal Charging Compatibility:
Keep your devices charged on the go with USB charging port. Equipped with built-in led battery indicator. Designed to work with all popular USB powered devices from iPhones to Android phones, Tablets, Photography gear, Bluetooth Speakers, Headphones and more. Whatever USB powered gear you have got, we have got you covered.