Description
iPhone 12 Pro MagEZ Case is made from pure Aramid Fiber which is the strongest & lightest material in the world. Now Compatible with Apple MagSafe also.

[The Magnetic Wireless Charging Solution] Embedded metal strips in the MagEZ Case for iPhone 12 Pro offer a seamless wireless charging experience with PITAKA's MagEZ Series chargers.

[An Ultra-slim, Minimalist Design] Its carbon fiber-like aesthetic provides classic style and a smooth, sleek texture that feels comfortable in your hand. The slim, form-fitting phone case for iPhone 12 Pro offers full compatibility with 2D and 2.5D screen protectors. Please note: Since the camera location of iPhone 12 and iPhone 12 Pro is a bit different, our MagEZ Case for iPhone 12 Pro is ONLY compatible with iPhone 12 Pro!

[Crafted from Aerospace-grade Materials] Made from 100% aerospace-grade aramid fiber, this durable, light, and scratch-resistant synthetic material used by the military offers robust protection for your iPhone 12 Pro. Additionally, elevated rings around the camera lens protects against scratches.

[Textured Surface Improves Grip] Designed to improve the user's hold, 3D Grip technology is a patented process that leaves a textured pattern on the surface of the aramid fiber phone case for iPhone 12 Pro.

[Cut Precisely to Fit Your Device] The MagEZ Case is specifically cut to ensure easy access to buttons, switches, and the charging port. Package includes 1 x MagEZ Case for iPhone 12 Pro 6.1".


Use It With the Air Omni
The Air Omni is a unique 6-in-1 multiple-device wireless charging station capable of charging all your Apple and Android devices.

Use It With the MagEZ Juice
Charge your phone wherever you are, at home, in the office with the desktop charger, then stay charged on-the-go, with the magnetic portable power bank.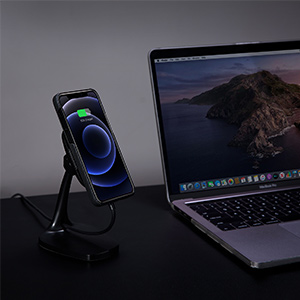 Use It With the MagEZ Mount Qi Desktop
Wireless charge your smartphone using the magnetic desktop charger while organizing your every day carry.

Bonded Rings for Lens Protection
Elevated rings protect the camera lens against scratches.
Improved Grip and Comfort
PITAKA's vacuum forming technology leaves a textured surface that improves your grip and feels soft to the touch.
Minimalist Design
The stylish and form-fitting MagEZ Case enhances the shape of your iPhone.